Israeli Army destroys Palestinian homes in Al Aqaba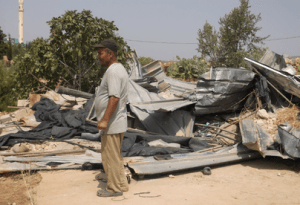 At 7am this morning twenty Israeli military jeeps accompanied by two bulldozers entered the Palestinian village of Al Aqaba in the north of the Jordan Valley (Area B) and destroyed seven Palestinian buildings, two of which were family homes.
 The first family house the army demolished belonged to Rashid Ahmed Rashid Dabak and his family of ten. The bulldozers destroyed the house and the family's electricity connection. The Israeli Army had given the family a demolition order in 2002. The second house that was demolished belonged to Khaled Ahmed Abdul Rahman and his family of eight, three of whom are children. The two families had been living in these homes for fifteen years.
The military also destroyed five buildings for agriculture belonging to Palestinians in the village, including shelters for chicken and sheep. The Israeli military had given orders to Palestinian farmers in Aqaba to stop working over the last few years, but the farmers continued to work on their land resisting expulsion from their homes.
 Since 1998 the Israeli Army has destroyed fifteen Palestinian houses and shelters in Al Aqaba. An Israeli military commander claimed that the houses were destroyed as they were situated in a military firing range. The Palestinians in the village continue to ask why the army destroys their access to water and electricity, and why the army does not permit Palestinians to build on their own land while the illegal Israeli settlements in the area are allowed to build and expand.
.
An animal shelter destroyed by the Israeli military in Al Aqab