Existence is Resistance: A guide to BDS targets from the Jordan Valley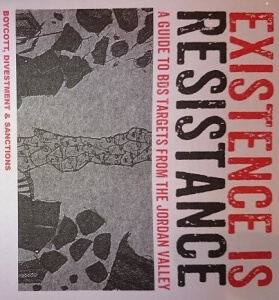 As Rashid Khudairi, co – ordinator of Jordan Valley Solidarity, is touring the UK and speaking to Universities as part of Apartheid Week 2016, a new guide has been published by Brighton Jordan Valley Solidarity.
It is a rough guide to the corporations that are complicit in, and profiting from, Israel's occupation and ethnic cleansing of the Palestinian population in the Jordan Valley.
It's available on the Boycott, Divestment and Sanctions page of the Jordan Valley Solidarity and will shortly be available as a pdf for local groups to download and use.