Further attacks on Bardala's water supply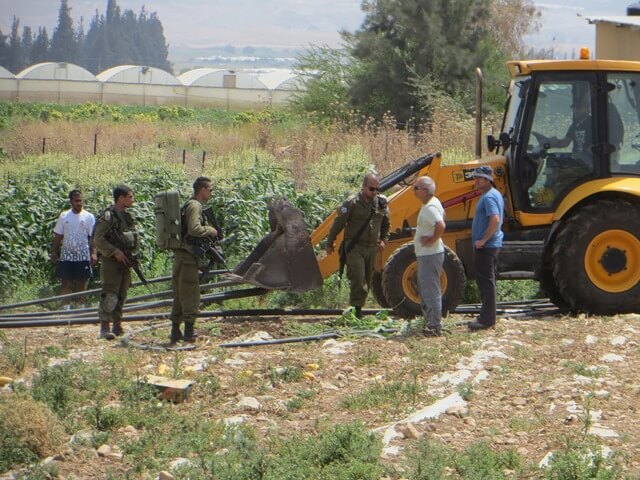 On 4th May 4 2017, Israeli Security Forces stormed the village of Bardala accompanied by two settlers to close off the main water system which supplies around 70 families, 50 farmers on nearly 3000 Dunums.
The two main pipelines that serve the farming families were cut and confiscated. Farm owner, Aziz Sawafta, was directly affected as his land is the first farm to receive water where the pipelines initially confiscated. The Israeli occupation forces arrested farmers, Aziz Sultan Azizi Sawafta and Mahmoud Taleb Aziz Sawafta, accusing them of refusing to sign an order that was in Hebrew and which they therefore did not understand. Mahmoud Taleb Aziz Sawafta is a father of three children.
After the Israeli Security Forces completed the confiscation of 600 meters of pipeline, they fired tear gas and sound bombs at the farming community from Bardala. Five youths from the village were injured: two were injured when they inhaled the tear gas; another, Mohammed Sawafta, sustained an injury to his is arm and was taken to Tubas Hospital for treatment; and another was injured on his leg.
The pipeline that feeds the drinking water supply was initially cut on 27th April. It seems that the occupation forces returned on 4th May to confiscate water pipes that they had not taken a week before. Since this initial pipeline cut one week ago, the village has seen the affects by living without drinking water for two days.
For Aziz Sawafta's farm, he would be able to yield 130 boxes of corn and guava per every one dunum. He is the owner of 20 dunums, yielding a total 2600 boxes. He can tentatively earn 30 NIS for every box, which could total up to 78,000 NIS, about $19,500 over a 4 month period. This is a similar loss that many other farmers will experience in the village of Bardala.