Volunteering day at Vittorio solidarity school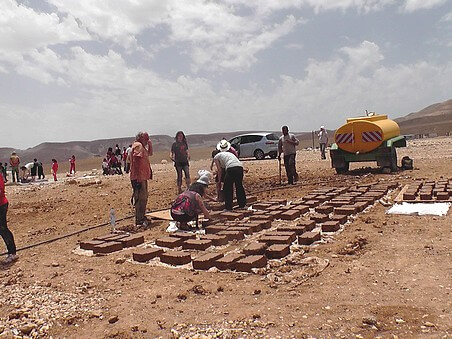 Last Saturday, about 50 volunteers spent the day in Ras Al Auja to help building the new JVS solidarity school, 'Vittorio's school' as well as to give entertainment to the kids of the area.
Palestinian, Israeli and international volunteers along with people from Ras Al Auja community gathered to make mud bricks and to finish the two first class rooms of the school.
Some of the volunteers came with circus equipment to give the opportunity to the kids of the area to play and learn some new games.
By the end of day, volunteers finished the two first rooms of the school we started to build one month and half ago.
Volunteers all shared a common meal in Al Auja, cooked by women from the community, and had a tour in the Jordan Valley, then finished with a meeting in the Friends meeting house, in Jiftlik.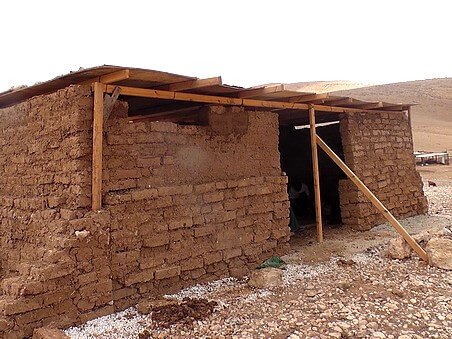 Their article :
In the Jordan Valley, Palestinians are struggling just to remain on the land as the predatory settlements and occupation authority make everyday life an uphill battle.
On 29 May, a group of Palestinians, internationals and Israeli activists joined the Jordan Valley Solidarity Project to help build a school out of mud bricks.
Nearly the entire Jordan Valley is under Israeli control (categorized under Area C). Lacking permission to even build a rainwater collection device, most communities suffer from a constant threat of home demolition. The day of action was about supporting Palestinians in the Jordan Valley to continue their steadfast resistance in the land. The Jordan Valley represents nearly 30% of the West Bank, and therefore is crucial to a future Palestinians state.
Diana Alzeer, 23, who helped organize the group, emphasized the importance to build bridges between the geographically diffused Palestinian communities, "I believe that part of activism and resistance is not only going to demonstrations, and I think it's really important for us Palestinians to be in contact with the rest of our society including the hills of hebron, Jerusalem and different districts of Palestine."
Continuing, Alzeer said, "The Jordan Valley is one of the places I think it is very important for volunteers to go to, because in that part of Palestine existing is actually resisting."
Driving the group of activists along Highway 90, leaders from the JVSP pointed out the countless agricultural settlements that litter the area, explaining how Israeli settlements have appropriated the agriculture enterprise of the region, preventing Palestinian communities from maintaining their own livelihoods.
According to JVSP, the dearth of schools for Palestinians living in Area C force young Palestinians to find work on a settlement farm. Therefore, building schools in communities is of the utmost importance to restoring Palestinian independence and helping the communities to stay on the land.
To find out how you can get involved in helping community activists in the Jordan Valley, visit the Jordan Solidarity Project .
Photos taken by Diana Alzeer.