The school they didn't want us to build
In April 2007 a delegation from Brighton visited Upper Fasayil in the Jordan Valley, West Bank, Palestine. They sat down with the villagers and planned to build a school, knowing that the the villagers were prohibited from doing any building, improvements or repairs by the Isreali Civil Military Administration. (The vast majority of the Jordan Valley was allocated as 'Area C' under the Oslo Accords. This gives Israel complete control over Palestinian as well as Israeli communities.)
The villagers knew that the Israeli's long term aim was to eradicate their village, which had already lost nearly all its land. The building of the school started. Israel predictably issued an injunction to stop building. The villagers continued to build and challenged the injunction in court. Meanwhile, Brighton Tubas Friendship and Solidarity Group organised an international petition, and managed to get some national press coverage in the UK. The Israeli's backed down.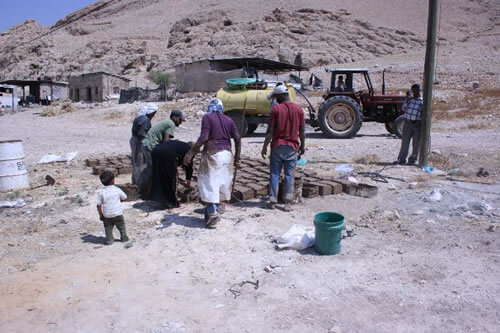 Now, one year later, the two room school is completed and lessons will start in September. There are also plans to build a health clinic in the village with the support of Ma'an Development Centre.
But, more importantly, it is on a list of 14 villages issued on 13th May 08, where Israel has agreed to "facilitate developing, building and upgrading of schools, clinics, and other facilities" and "re-examine the current demolition and land orders". (See http://www.tonyblairoffice.org/quartet/news-entry/towards-a-palestinian-state/). This is a significant victory for the people of Fasayil (many of whom have to work in illegal Israeli settlements to earn enough to survive, and live daily with the threat that their homes will be deomolished).
However, Fasayil is just one village amongst many others in the Jordan Valley that are threatened with extinction. As one of the Palestinian activists from the Brighton Tubas Friendship and Solidarity Group said:
"Dozens of Palestenine residential areas in the Valley still suffer from the policy of demolitions and relocations by the occupation authorities. Let us continue our campaign. We will move to al Al Farisya and we will continue in Al Haddiya. It's long term struggle ….Let's go!"