Right to Movement in Fasayel
Young activists from Fasayel al Fouqa, in the middle of the Jordan Valley have launched a new campaign to establish the 'right to movement' for the people of the village. Fasayil al Fouqa is aproximately 2km from the main road, and all access to the village is via a dirt track, which gets washed away when there is heavy rain. It is also very difficult to cars and taxis to go up the road, and the local people often have no choice but to walk.
Following successful action in the village over the last 7 years, the community have established a primary school and health clinic,plus electricity and water supplies. They have done all of this alongside alongside Jordan Valley Solidarity, and we now decided to work together on the Right to Movement campaign.
Background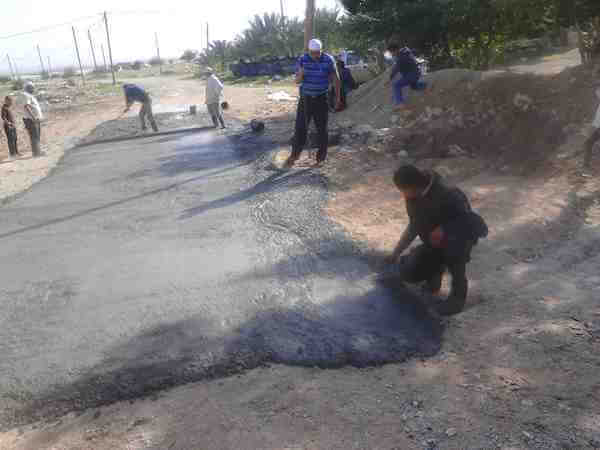 Fasayel is a village of Palestinian farmers and herders, which was settled in the 1920s. The oldest house in the village is eighty years old.
The village covers an extensive territory, over 2400 dunums. It is divided into three parts: Fasayel al Tahta, Fasayel al Wusta, and Fasayel al Foqa. Formerly, many families lived here, growing bananas, lemons, grapes, and dates. They had a water well, built before 1967 with a Jordanian license. The whole village was green.
Then the Israelis occupied the Jordan Valley in 1967 and built three water wells in the village. They forbade Palestinians from digging more than 46m deep, yet dug right next to the Palestinian well and natural springs, at a depth of 800 meters. Therefore, the Palestinian well became dry, and soon afterwards the earth was no longer cultivable. More than 100 families have therefore left the village to find work in Jericho, Nablus, or Tubas.
Fasayel al Tahta is in Area B, under joint Israeli and Palestinian control. The houses are built with concrete materials and there is a school and a grocery. But this is only a small part of the village. Fasayel al Wusta and Fasayel al Foqa are in Area C, under complete Israeli civil and military control. Therefore, the situation is even more complicated. Six homes are threatened with demolition orders in Fasayel al Foqa. Fasayel al Wusta is the part of the village that suffers the most difficult conditions: two years ago, the Israelis destroyed all its houses, three times in the same month. Some families stayed anyway and are now living in tents or tin shacks. All these temporary dwellings also received a demolition order from the Israelis, who can come at any time. Three were demolished in April 2014. This extremely distressing situation causes residents a lot of psychological distress, especially children and women. Fasayel al Wusta is the main target, as Israeli settlers from Tomer settlement want to seize this land for cultivation. They have already confiscated all the land between Road 90 and the Jordanian border, which used to belong to Fasayel's families.
Nowadays, Fasayel has 1,500 inhabitants. The village has water deliveries only every four days, and the electricity does not always work well. The majority of Fasayel al Wusta and Fasayel al Foqa's population raises sheep and goats to produce milk and cheese. But a large part of the inhabitants of Fasayel are now working on the farms of the Israeli settlements, as they are unable to work on their land due to the lack of water. Their working conditions are extremely hard, eight hours per day, often in sweltering heat, without health or retirement benefits, for only 50-70 shekels per day.
Jordan Valley Solidarity began its campaign for Fasayel in 2007. At that time, there was no connection to the main electricity network, and no water. There were no houses in Wusta or Foqa, and there was only one school in Fasayel al Tahta. When we got  interested in this village, we started with a survey  among the population to assess their needs and understand their situation, and we explained to them who we were and why we were here. Then the people decided that they needed to build a second school in Fasayel al Foqa, and we planned it. We built it with mud bricks, according to the Palestinian tradition. But at that time we were not professionals, so it was very difficult for us, and we had to start over three times. Finally, we built three rooms, and we were able to officially open the school. Immediately, the Israelis gave us a demolition order. We therefore conducted a  media campaign and lobbied politicians to save the school, and it was a success : today, 180 children attend school.
Following this success, the inhabitants of Fasayel began to really trust us, understand our work and how we resist the occupation, and cultivate hope again. We then built a small clinic, which is open three days a week, from 7am to 2pm. Outside these hours, people have to go to Jericho in case of an emergency, at a distance of 25 kilometers, which is very restrictive, especially because there is no public transportation between Fasayel and other Palestinian cities. Then we established an electricity connection  and water pipes for the whole village, with the help of the Norwegian Embassy. Finally, we have built over 50 mud brick houses to allow people to return to the village. Through this campaign and all these changes and improvements in their living conditions, Fasayel's population regained its motivation to resist the occupation, and some have now reconstructed real houses in Fasayel al Foqa.
Our campaign for Fasayel is a real success in the long term, but a lot remains to be done to overcome all the problems that people have to face every day. The issue we are now concerned about is the right to movement for Fasayel's inhabitants. Indeed, the village's main street is not paved between Fasayel el Wosta and Fasayel el Foqa, since it is located in Area C, because the Israelis have prohibited any work to make it practicable. This is very problematic, especially when it rains, because this dirt and stone road turns into a real wadi, gathering all the water flowing down from the mountains.
Moreover, for now no car or taxis go to Fasayel el Wosta or el Foqa, which gives the people no other choice than walking, sometimes more than two kilometers, under the sun or the rain. As we are in the Jordan Valley, temperatures in summer can be very hot, up to 50 degrees. Walking under such conditions can be very dangerous, especially for kids or pregnant women.
Following our training for the youth about international law, young activists from Fasayel and Jiftlik chose to start a new campaign for Fasayel, in order to defend its population's right to movement.
The main goal is to fix Fasayel's main road by paving it with asphalt, and to empower young activists to become community leaders and to run campaigns.
Expected results
To inform villagers about their right to movement, and about the possibilities of acting on those rights.
To show NGO and International organizations that it is possible to realise such projects, even in area C.
To help Fasayel's inhabitants and make their daily life easier
The road will be passable even in wet weather
Fasayel's farmers will be able to export their products easily
Vehicles will be able to come to Fasayel el Foqa, and Fasayel will finally be connected to other Palestinian villages and cities.
Steps
1st step: to attract media (TV, newspapers) attention, so that they focus on the Jordan Valley and this campaign in particular. We will also publish the campaign on the Internet to let people, organizations and associations around the world know about it.
2nd step: to fix the road in Fasayel (5 days)
3rd step: To let the Jordan valley population and communities know about this campaign and invite them to join us.
4th step: To ask NGOs and organizations to plan such projects in other communities which are facing the same problems.
5th step: a meeting with all the people who have participated in this campaign, receive feedback and find out what they think, and how they want to continue in the future.
Organising Committee
Walid ANABOSSE
Haneen IQTISHAT
Abdallah MAHMOUD
Omar ABAYAT
Fadya NAWAWRE
Hussein ALI