Only source of clean water to Al Hadidiya community destroyed by occupation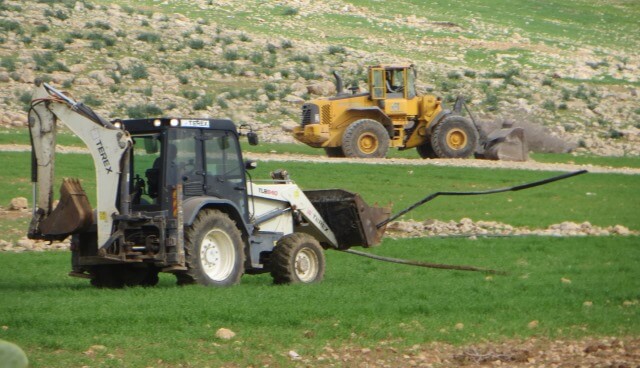 On Tuesday 10th January 2017, at 6am, the Israeli occupation forces invaded Al Hadidiya community, blocked the road with mounds of dirt. They then proceeded to destroy the water pipes, which supply the only source of drinking water for both people and livestock in the area.  There were 10 military jeeps, 3 bulldozers, and 4 Civil Administration jeeps .
The plastic water pipe was laid by an international NGO to support this small Bedouin community in the northern Jordan Valley which had been repeatedly targeted by occupation forces with countless demolitions in the last 11 years.
The pipe brought water from A'tuf, 11 km away and served 10 families.
Now people there have no clean running water and will once again have to pay 27 Israeli shekels (£5) per cubic meter of water that they will have to collect with tractors and portable water tankers.
Abu Sakr, a resident of Al Hadidiya, spoke to Jordan Valley Solidarity and said:
"In 2009, there was an agreement between Palestinian Water Authority and Israeli Water Authority (Mekorot), and there was an official document by the Tripartite Commission responsible for water to give people of Al Hadidiya 200 cubic meters of water daily. After choosing the location for a water well by the Director of Water Department in the West Bank, the water engineer of Mekorot, and the local administrator of the region (myself, Abu Sakr ), the water well was prevented from being opened (by the occupation) as a strategy to of displacement ."