More demolitions in the north of the Jordan Valley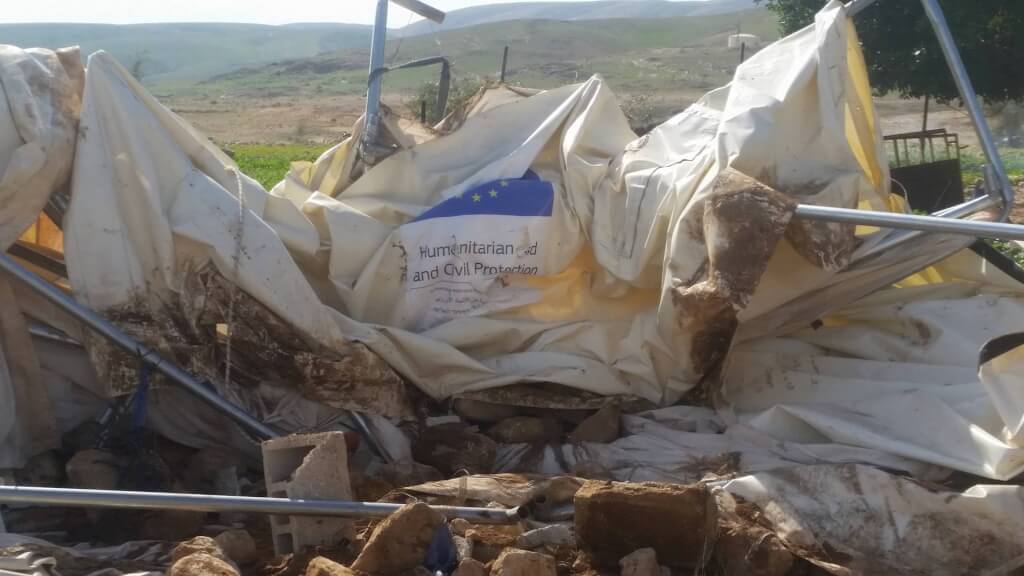 On Thursday 11th February 2016 the Israeli army brought bulldozers to the north of the Jordan Valley and destroyed 42 shelters that were being used as living quarters for people and animals. Nine families were affected by these demolitions. Those who had their belongings destroyed were living in the villages of Bardala, Al Farisya and Albeda. Even though the families owned the lands and had formal documents to prove it, they can't build anything on it.
One of the targeted villages is Al Farisya in which 31 shelters and tents that belonged to 7 different families were destroyed. The owners of the properties were Talal Aida, Yousf Ayda, Allan Lado, Rabee Lafi, Hamid Abu Alzit, Mohammad Faris and Ziyad Dababat. In the village of Bardala, for instance, one agriculture store owned by Ainad Sawafta was destroyed. Yet in another village, Albeda, the IOF destroyed shelters that belonged to Ziad Foque.
The demolitions that took place on 11th February are part of a new wave of demolitions promoted by IOF, whose goal is to force the displacement of the Palestinians from the north to the south of the Jordan Valley. On Wednesday, 10th February 2016, the IOF conducted mass demolitions in the four areas of the Jordan Valley, with around 71 people affected by the destruction of seven homes and six animal shelters. Besides the houses, a system of pipes that provided water for 300 people was intentionally damaged, destroying their only source of water.