Medecins du Monde planning mental health project in the Valley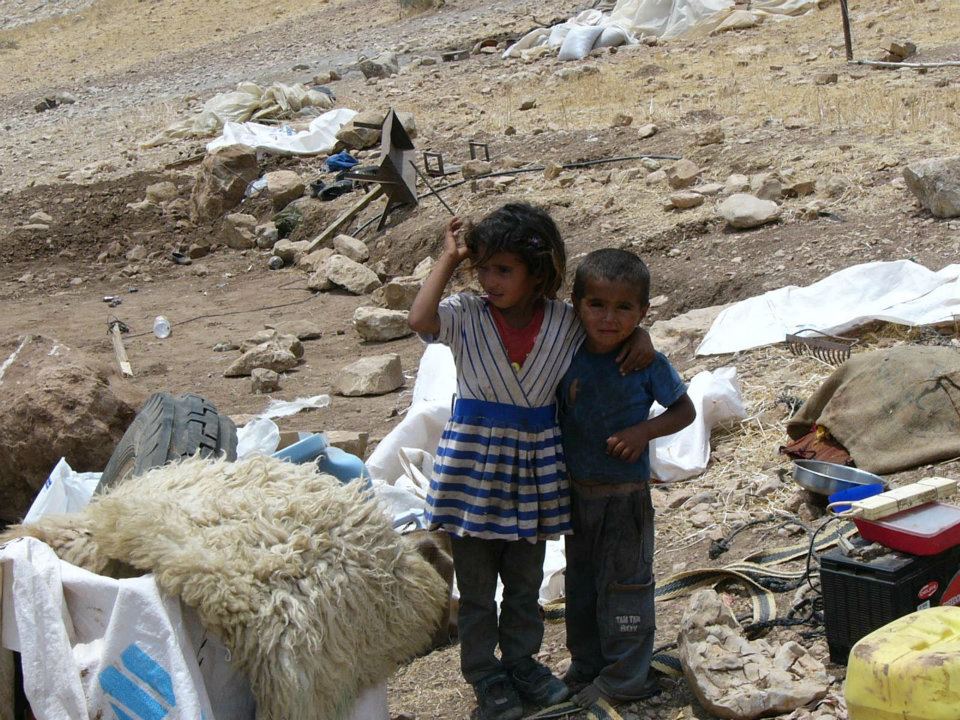 On 2nd February we from the Jordan Valley Solidarity Movement met with members of the NGO, Medecins du Monde, to discuss our plans to work together to provide mental healthcare services in the Jordan Valley. Medecins du Monde has already been working on a project to provide mental health services to Palestinians in Jericho and to Bedouin communities in the south of the Jordan Valley, and we hope they can extend their project to include the North of the Jordan Valley as well. The main objective of our meeting today was for the members of Medecins du Monde to begin assessing the mental health concerns in the North Jordan Valley so that we could begin creating a strategy for implementing their project here. Today, we from the Jordan Valley accompanied the members of Medecins du Monde to two of the five villages we hope they will work in.
The first village we went to was Hamsa, where we spoke with Abo Read Famle. Since 1967, Hamsa has been targeted by Israelis, largely because of the villages strategic position on top of a hill. From Hamsa, we could see a checkpoint, a colony and a military base. Abdul Rahim told us that his house has been demolished twice by the Israeli army and that the army offered him two million dollars to leave. However, Abdul Rahim refuses to leave. Like many Palestinians, refusing to give up their land to Israel, no matter how hard Israel makes it for them to stay, is an important form of non-violent resistance. We in the Jordan Valley Solidarity Movement believe whole-heartedly in refusing to give up land as a strategy for resistance and in 2012 we helped to rebuild Abdul Rahim's house and provide him and his family with the water they need. Abdul showed us an order he received in October for his house to be demolished once more.
The second village we went to was Al-Hadidiya, where we spoke with Abu Sakr, a leading Palestinian activist and a member of the Palestinian Farmers Association. Abu Sakr explained how this region has been targeted by the Israeli army since 1967. He explained that the Israelis began with the Palestinians animals, by first fining them for having cattle, then killing the cattle, and then putting the cattle in quarantines and fining the Palestinians for keeping them there each day. After the Oslo accords, the Israelis began demolishing homes, arguing that the Palestinians do not have rights to build there and should move to Areas A and B. Abu Sakr's house has been destroyed six times by the Israeli army. The Israeli army has also stolen water sources in the region and has forbidden the people in this region to build schools. In 1997 there were 57 families living in Al-Hadidiya. Since then, Palestinians have been pushed out of the area due to Israeli policies, and now fourteen families remain in Al-Hadidiya.
In both Hamsa and Al-Hadidiya the members of Medecins du Monde were able to gather some information on stressors the community members face that could lead to mental health issues. These stressors all derive from the practices of the Israeli army, such as poor living conditions with limited resources, harassment from soldiers and living in fear of your house being demolished. We also met two women who had evident mental health disorders and who the members of Medecins du Monde argued needed care urgently. The members of Medecins du Monde recognise that for whatever work they can do in regard to mental health, they must be sensitive to the fact that mental health is rarely discussed among the Palestinians in the Jordan Valley and that mental health symptoms are often related to spiritual phenomena like demons.
We left our meeting today with the members of Medecins du Monde with hopes of meeting again in the future to discuss more specific strategies for providing mental health services to the people of the Jordan Valley. We discussed how the project would need to begin by collecting data from the villages they hope to service about the prevailing mental health issues that they can provide to donors who would finance such a project. We hope that we can gain enough resources to implement this project as we recognise how important it is to the people of the Jordan Valley.