London Protest Against Veolia
Whilst Veolia destroys the environment in the Jordan valley, and profits from Israel's illegal settlements in the West Bank, it trys to create an environmentally friendly and clean image to the rest of the world by sponsoring the Wildlife Photographer of the Year competition in London.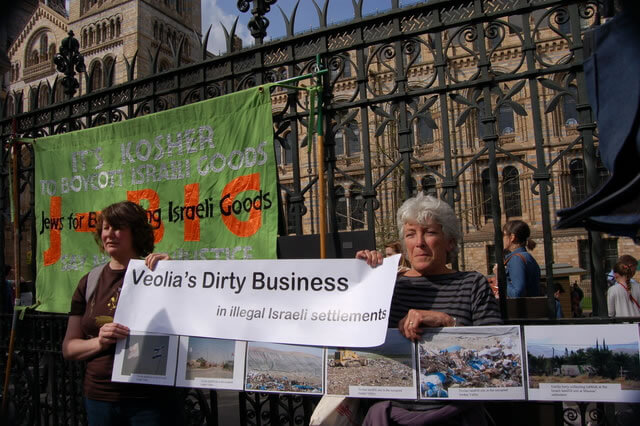 On 10th April fifty protesters turned up at the Wildlife Photography exhibition to expose their hypocrisy and lies.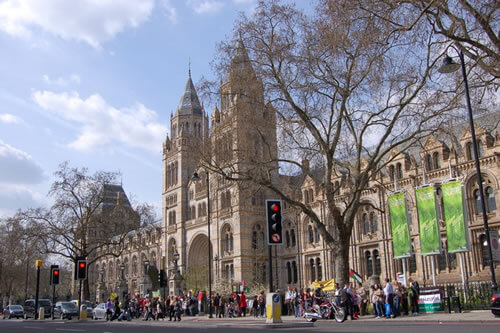 Ever since the first Palestinian call for boycott, divestment and sanctions against Israel in 2005, French multinational Veolia has been on campaigners' list of boycott targets for its investment in the controversial East Jerusalem tram line and involvement in 'settlers only' bus routes. As a result of high profile boycott campaigns around the world, Veolia last year attempted to abandon its part in the tram line project. But Veolia's shameless facilitation of settlement infrastructure does not end there. On a recent visit to the area, Corporate Watch investigated the impact of Veolia's other big operation on occupied land: the Tovlan landfill.

Established in 1999, Tovlan is situated deep inside the Jordan Valley in the West Bank, on land cleansed of Palestinians after the occupation of the area in 1967. According to Veolia, operating the landfill can not be considered unethical or in breach of their guidelines as the dump allegedly provides services to both Palestinians and Israeli settlers. The company sign of Veolia's subsidiary ONYX proudly advertises its business at the front gate. However, the Tovlan site is managed by the Israeli settlement regional council of Biqat Hayarden, which covers 21 illegal settlements, and the land is leased from the occupier: Israeli's civil administration. There is little evidence of the much-talked-about benefits for the surrounding Palestinian communities, as a meeting with an ex-Tovlan employee confirms.
For more information see http://corporateoccupation.wordpress.com/2010/01/28/veolias-dirty-business-the-tovlan-landfill/