BREAKING NEWS: Demolitions in Northern Jordan Valley
Five structures were demolished by Israeli Occupation Forces (IOF) in the Northern Jordan Valley this morning: three houses, one animal barracks and a bee farm.
Two houses were demolished in Al Maleh. Nief Mohamad Abed Faqer, his wife and five children lived in one. Aref Ahmad Twefeq Daragmah's public meeting house was also demolished.
The house of Hassan Ahmad Abo Zahow was demolished in al-Hamne.
A bee farm run by the women' co-operative in Kardala village was demolished.
An animal barracks owned by Ali Zohdi Abedalah Abomihsen in al-Farsiya was also destroyed.
See photos of demolitions in Al Maleh here
This morning at 7am the Israeli army entered the village of El Beida in the northern Jordan Valley with 10 military jeeps and one bulldozer. Israeli military proceeded towards Abu Tarek Fracka's land where he houses a honey farm on the land where his father's house once stood.
The bee farm was shared by 50 families. Previous harvest has been known to produce 900 kilos of honey with recent prices of honey, yielding 60-100 NIS per kilo. Abu Tarek is in possession of paper work permitting him to build on this land and also forbidding demolishment. Time was not granted to him to produce this paperwork, nor was a demolition notice given to him prior, as the military rushed to unjustly destroy Abu Tarek's property, the first time he and his family experienced a demolition.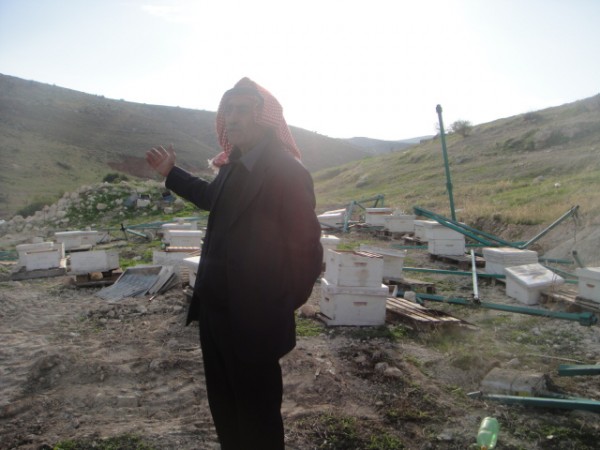 At 9:00 AM in the village of El Himma, Hassan Ahmad had the barracks of his sheep demolished. The barracks held 200 sheep. There was no prior warning of the demolition given to the family. Back in 2008 the family received orders to stop building on the land. This order was abided by with no recent additions made. The family has rented the land for 6 years from Palestinians. In the past week Israel has demolished three animal barracks within this area, accruing damages costing in excess of 15,000 NIS.
In Al Farisiya, of the Northern Jordan valley, at 9:00 AM soldiers entered the land of Ali Zuhed. No communication was made with the family; instead, the bulldozer went straight to work tearing down the barracks of the sheep. An order was also given to dismantle the remaining animal barracks within hours. The soldiers stated that if these barracks are still standing when they return they would demolish the rest of their properties including their home.