Could you donate to support our school bus?
On 20 August 2015 the Israeli Occupation Forces demolished Al Samra school in the north of the Jordan Valley, along with its classroom materials and playground. The school was built throughout 2013/14 by Jordan Valley Solidarity (JVS), local Palestinians and international volunteers to provide the children of Khirbeit Samra and the surrounding villages in the Beqaa area with a space to practise their right to education.
Since the school has been demolished, children from the villages have had to travel to Tubas, 25km away, to attend school. This journey presents particular challenges due to a lack of transportation, checkpoints and frequent road closures, and families' obligation to remain working on their farms while the children often have to sleep in Tubas for days at a time, away from their families.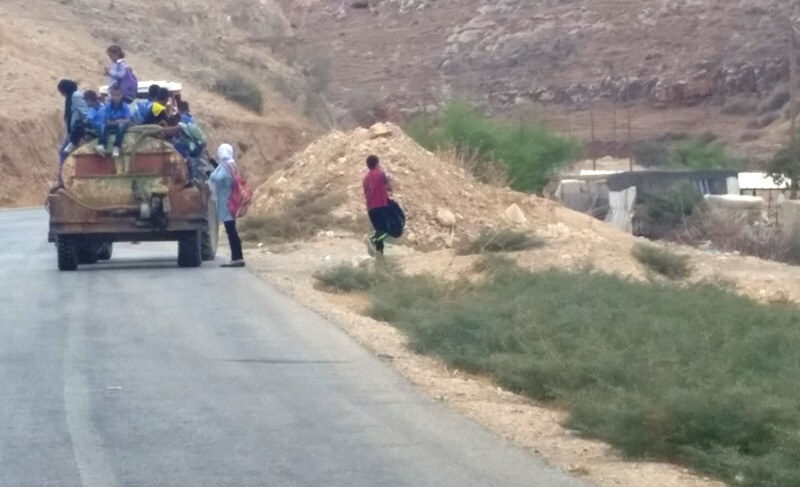 Thanks to support from friends in France and the French Solidarity for Free Palestine, JVS was able to purchase a bus on August 13th 2016 that now collects children from these northern communities and takes them to school five days a week in Tubas.
The bus driver is from Tammoun, near Tubas. He drives the bus five days a week, leaving Tammoun to collect the children in Al Hadidiya, Hamza and the surrounding communities in the northern Jordan Valley and taking them to school in Tubas, and later dropping them off at home after school. The driver is therefore making a 110km round trip five days a week.
The monthly cost of fuel for the bus is 2000 shekels (USD$525), maintenance and insurance 1000 shekels ($265), and the driver's salary is another 1500 shekels ($395) per month. JVS currently have no funding to cover these monthly costs: since August 13th JVS volunteers have been covering these costs themselves, which has become increasingly difficult given the need for funds to cover other operating costs (such as transporting building materials to ongoing JVS construction projects).
JVS is now asking for support to cover these monthly expenses of 4500 shekels (USD$1185) for the next 10 months, so that the children's school year attendance won't be disrupted again as it was after the demolition, until plans can be made to rebuild a school.
JVS: About our work
JVS is a local organization working with and for residents of the Jordan Valley for solutions to the daily problems brought on by the Israeli occupation. The Jordan Valley is one of the worst affected areas in the West Bank, with 95% of its land surface under full Israeli civil and military control (Area C), seeing its pre-1967 population of 300,000 decline to 56,000 as its lands are seized to make place for military firing zones and illegal settlements. Palestinians living under Area C frequently face house and building demolitions as Israeli authorities refuse to issue the construction permits needed for these vital facilities.
The right to education in the Jordan Valley
With the help of local and international friends, JVS has built and supported the construction of six schools in the Jordan Valley since 2005. Four of these are still operational, providing a space for education for 700 children, while two have been demolished (including Al Samra).
Thank you for your solidarity.
Rashed Khudairy, Coordinator of the Jordan Valley Solidarity Campaign