Jordan Valley Bedouin struggle in the face of Israeli demolitions
Thursday, 17 November 2011: Ben Lorber for the Alternative Information Center (AIC)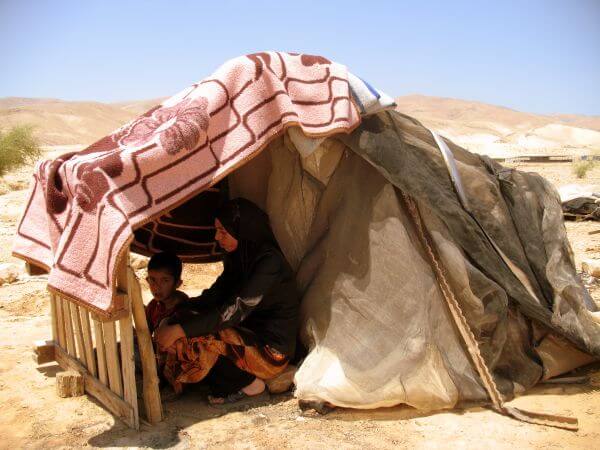 Between January 2000 and September 2007, Israel demolished 1663 Palestinian structures in the Jordan Valley. Today, as the Israeli army steps up attacks on Palestinian water sources, the demolitions continue. But Palestinians and international volunteers are determined to rebuild
An ongoing grassroots construction project in the Jordan Valley Bedouin village of Fasayil highlights what Jordan Valley Solidarity calls "a twisted microcosm of the fickle barbarity of Israel's illegal occupation."
Located in the middle of the Jordan Valley, off of Road 90, near Jericho, the town center in Lower Fasayil is designated an Area B region, where Palestinian civil control authorizes construction of buildings. Middle and Upper Fasayil, however, are Area C regions, where Israeli control forbids construction.
"When crossing from Area B to C," says Jordan Valley Solidarity, "the demarcation is not a checkpoint or a sign, but rather the end of paved roads and the drastic change from houses to shacks. Animal shelters mix with residences, electricity is scarce and water must be bought and brought in at exorbitant prices from Israeli companies."
In 2007, a solidarity group from Brighton in the UK, backed by Tony Blair, won a legal battle to help the Upper Fasayil community build a school for 150 students in nine grade levels. Because the school is in Area C, however, it could be demolished by the military at any time, and, according to Jordan Valley solidarity, it is lacking "a library, a science lab and computer lab, has no afterschool activities or programs, and is able to provide only unhealthy snacks in its small and dirty canteen…standing at the center of the school's basketball court, above the makeshift wire fence, children can see the opulence of the Tomer, Fasayel and Ma'ale Efraim settlements overlooking the crippling poverty of the town."
The residents of Middle Fasayil are denied the basic necessities of water and electricity, Jordan Valley Solidarity reports, "…as a further affront to their human rights, the Bedouin must watch as families a few hundred metres away in [Lower Fasayil] receive rice and cooking oil from USAID…"
Since the 1990s, the number of Jewish settlements in the Jordan Valley tripled despite a settler population increase of only 13%. Israel's dense thicket of checkpoints, and their consistent demolition of Palestinian structures, deters NGOs from working in Area C. Because it is illegal under Israeli law to build or repair even the smallest makeshift animal pen, relief organizations direct their attention to Area A, thus reinforcing Israel's goal of clearing Area C of Palestinian presence.
On 14 June, three Caterpillar bulldozers demolished 18 homes and six other structures in Middle Fasayil, leaving 103 people homeless, including 65 children. In response, the residents of Fasayil, along with Jordan Valley Solidarity, initiated a mud brick rebuilding project, aimed at building a community center and a football field. "With the imminent risk of demolition," says the European environmental activist group P.E.D.A.L., "there is no spare money for cement and blocks, and mud and straw are abundant. This is an environmentally sound building technique. Sustainable practices always flourish where there is little money."
http://www.alternativenews.org/english/index.php/topics/news/3906-jordan-valley-bedouin-struggle-in-the-face-of-israeli-demolitions