Release Mahmoud Abujoad Frarjah from Israeli detention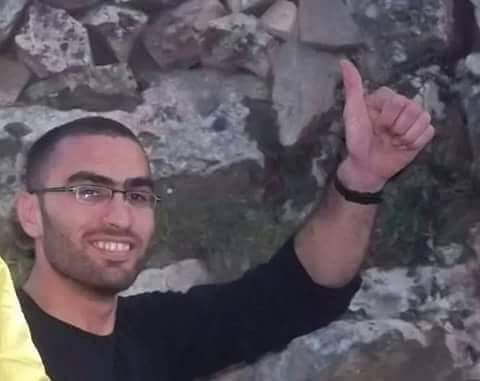 Mahmoud has been illegally arrested by the Israeli military and charged with an offence he didn't do. We are calling for his immediate release.
Palestinian human rights activist and community support worker, Mahmoud Abujoad has been detained by the Israeli authorities since 9th September 2015 on false allegations of throwing stones during a demonstration. He and his family are in urgent need of support to help get him released at his court hearing on 22nd March 2016.
Follow the facebook page for updates www.facebook.com/release.mahmoud
We are collecting donations on behalf of Mahmoud's family to support their legal fees, costs of campaigning for his release and costs for travel, visits, food, etc.
When you have entered your donation amount you will have the option to send us a message where you can just type in 'Mahmoud'.
Mahmoud, aged 29, and his wife Sireen were on their way to Jordan to visit family when the border police arrested and detained them both. Mahmoud was held for eight hours on the border, whilst being blind folded, handcuffed and denied water, food, and toileting facilities. Sireen was released after four hours. Mahmoud was subsequently charged with throwing stones on a demonstration a year ago which he didn't attend.
Mahmoud is involved with Jordan Valley Solidarity (JVS); a Palestinian grass roots initiative supporting communities' right to exist in The Jordan Valley, Occupied Palestine. Their work includes documenting human rights abuses, rebuilding homes demolished by the Israeli army and supporting communities to rebuild water and electricity supplies, often cut off by the illegal Israeli settlements. Mahmoud has recently been involved in JVS' campaign for the right to education; fundraising for a bus for children from isolated communities to access school. In the same month, the Israeli army demolished Samra School which had been built by mud bricks made by JVS, and demolished 50 homes in the local area.
Mahmoud's arrest and the subsequent charges made to his family are an illustration of how the Israeli judicial system functions to further persecute and oppress Palestinians. Under this tyrannical system, Palestinians are given no presumption of innocence and often have no right to see a lawyer, or to a fair trial. The charge brought against him, throwing stones on a demonstration, is an offence that under new Israeli law could sentence him to twenty years in prison.
Mahmoud is the youngest of 16 children, and lives in Dheisheh Refugee Camp in Bethlehem. His family were originally from the village of Zakeria and were expelled from their homes during the catastrophe of 1948. He and Sireen have recently married, and they have just moved into their new home. He is a close friend of many international Palestinian supporters and constantly welcomes hosts and entertains visitors to the West Bank, educating them about life under the occupation.
Mahmoud and his family and friends are appealing for support for the costs towards these proceedings.